Commercial Spaces
CCC Playa Palmas, Ciudad del Carmen, Mexico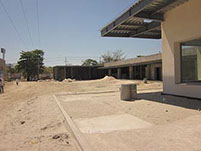 Banford Landscapes was commissioned to design the public green spaces throughout this 140-acre luxury real estate development on the Gulf Coast of Mexico.
The commercial spaces sit just inside the development's grand entrance, which consists of tall marble walls and a large fountain. The entrance gardens were designed using masses of colorful, soft forms to offset the solid structural elements.
The commercial buildings have clean shapes carried out in varying textures. The gardens surrounding these buildings are formal, with striking forms and a selective color pallette.
A 25' high green wall designed with the Country Club logo was installed along the road that leads into the private section of the property.